Solar Float Application
By installing solar panel float in reservoirs, water evaporation and algae can be suppressed, thus improve water quality. Also, since water can quickly cool the heat around solar panels, it is 10 -15% more power than solar panels on land.
Solar panel supported by Solar Float can be install on water
Water purification pond, idle pond, fish farm, industrial reservoir, dam, reservoir.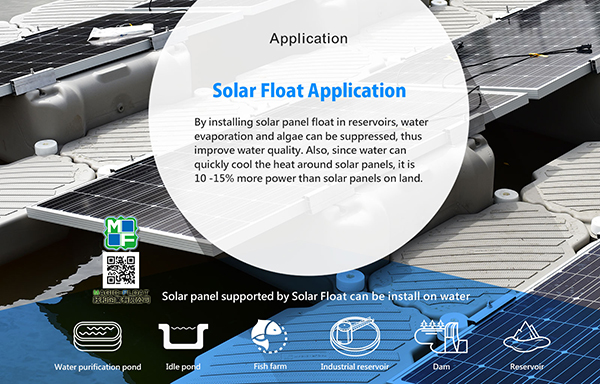 Solar Float features and advantages
● Easy assembly and disassembly, unlimited expanding area
● Modular structure, simple construction, short working hours, quick and easy installation
● High strength material, long product life, excellent durability
● Anti-freezing, anti-corrosive , anti-UV, , unaffected by seawater, chemicals, grease or shellfish
● High buoyancy and stability, good bearing capacity, allowing personnel to work safely on the floating platform
● Eco-friendly technology products, no worry of pollution or environment destruction
● Solar panels of different sizes can be installed, versatility increase.
● Solar panels surrounding by walkways for easy disassembly, repair and maintenance
● Solar float can store cables in the special designed cable storage tank of float, protecting cables and better looking
● Interlocking design of four sides of float, can withstand higher shear force, enhance the structural strength of floating platform